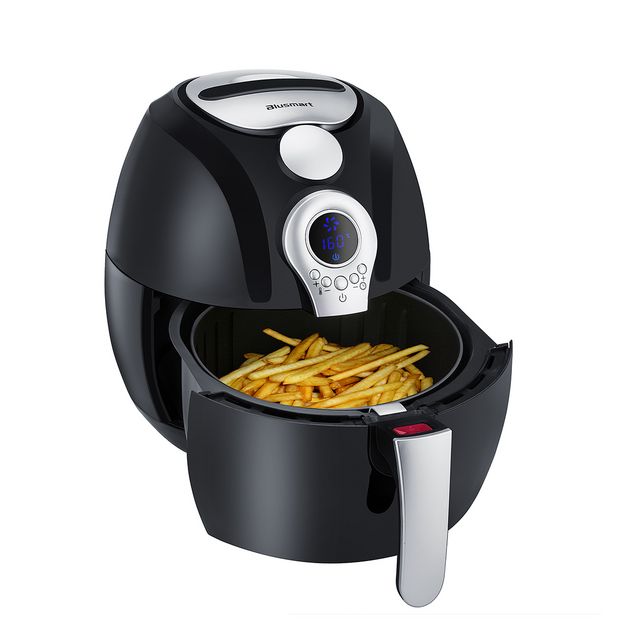 When foods are fried they must be cooked for a considerable amount of time, this causes them to absorb more fat, which is detrimental to health, since their consumption in excess generates cardiovascular problems or diabetes, among others. However, despite these serious consequences, eating nuggets, chicken or chips is still very tempting; Even so, there is a way to eat these foods without so many risks. In the following guide to buy the best fryer without oil you will find more information about it.
Shopping guide
Blusmart electric air fryer Functioning
It is likely that if someone talks to you about frying without oil at the beginning you have many doubts, perhaps the first question you ask is about the operation, followed by several questions regarding the taste and texture that food purchases.
Before making your comparison of oil free fryers it is important that you clarify these issues, as this will allow you to determine if they are really the right equipment for you and your family.
Several experts say that these devices perform the cooking process by combining the baking process with the action of the grill, for this hot air circulates inside at a high level of speed.
This whole cooking process helps the food you prepare to be golden on the outside and crispy on the inside, being very similar to those that are fried, but with the advantage of being low in fat and, therefore, healthier.
When you start using them, stop consuming excess fats or flours and acquire a healthier lifestyle, you will begin to notice changes in your life, ranging from losing weight and improving your appearance, to having more energy to do your daily activities.
Capacity
Each model of fryer is designed to cook a certain amount of food, which will depend on the capacity of the equipment.
If you want to know which is the best fryer without oil for you, you should consider the number of people that live in your house and the amount of food you usually prepare. If it is small, it may be more convenient to choose a model that has a capacity of two liters.
On the other hand, if your family is large or they usually prepare meals for several people, it may be more appropriate to look for a team that has greater capacity, perhaps a 5-liter is more suited to your needs.
Another concern of users is the price of these products, many wonder how much a fryer costs and think that those with greater capacity are the most expensive, but, when evaluating their value, they observe that the two things are not related, being possible to find a good and economical that fits large families.
Temperature
To cook food these equipment work at different temperature levels, which usually vary, but, generally, they remain between 80 and 200 degrees Celsius.
Each type of food needs to be cooked at a different heat level, depending on this, its texture and flavor will vary; For this reason, some manufacturers incorporate a thermostat that allows them to be regulated. Also, some models integrate a timer, through which you can set the cooking time of each recipe you want to prepare.
Depending on the design of the fryer, it will turn off automatically when the indicated period has ended, which guarantees that the food will not burn and also helps to save energy, as it will not burn for longer than necessary.
Design
Another aspect that you can not forget when doing your search is the design. There are teams that have baskets or trays, which will serve you to prepare several meals at once, thus streamlining your tasks.
Also, there are appliances that are versatile and, by their design, are suitable for preparing other recipes that must be baked.
Another advantage offered by these devices is that, as they do not require oil, they do not splash grease everywhere. But, it is also necessary to clean them to avoid the accumulation of food particles inside and there are models that facilitate this process, because the waste is easily removed.
They must be made of quality materials, that guarantee their durability for several years, and that their size and color is appropriate for the decoration style or the appliances that you have in your kitchen.
What is the best fryer without oil of 2018?
You always have to research before buying to avoid obtaining products that are not of the expected quality. That's why we want to facilitate this task by offering you a guide with the best oil-free fryers of 2018.
Blusmart air fryer
Main advantage:
The Blusmart air fryer fryer offers a wide variety of options so you can customize the preparation of your food and can make all kinds of dishes of your choice.
Verdict:
Whether you have started a diet or simply want to eat a little healthier, purchase a fryer like the Purifry can offer you the possibility to virtually eliminate monounsaturated fats from your meals.
MAIN CHARACTERISTICS EXPLAINED
Functions
Oil-free fryers have become really popular appliances because they allow you to enjoy crunchy crusts and flavors characteristic of frying without having to use large amounts of oil. This is beneficial to a large extent because the excessive presence of fats can cause general health problems.
However, caring for your health is just one of the benefits you will get if you decide to purchase the Purifry oil fryer from Blusmart air fryer. This model allows you to prepare a large amount of food thanks to the fact that it has the necessary elements for the personalization of the temperature and the internal state. It has a thermostat that you can adjust up to a maximum of 200 degrees and it will be ideal for chickens, meats, potatoes and more. Also, your maximum timer of 60 minutes will help you to take care of the kitchen when you use this fryer because it has automatic disconnection.
accessories
Thanks to the popularity of the first models of oil-free fryers, more and more complete options have been developed. Some of them have accessories that allow you to use your equipment in different ways as well as to prepare even complete meals at one time.
This is the case of Blusmart air fryer oil-free fryer model. This option has an interior specially designed so that you can prepare several types of food at the same time, this way you can have everything ready much faster. To carry this out safely and cleanly, this fryer includes a practical separation grid to avoid the mixing of flavors and sauces. In addition to this, the instruction manual is completely in Spanish and includes a cookbook so you can taste different dishes.
Cleaning
Even though oil-free fryers do not use this element, they do use high temperature heat and some even vapors. This causes that the remnants of cooking can be a bit annoying to clean, therefore, it is very important that you take into account this feature to save you headaches in the future.
Taking into account the needs of its customers, the team of Blusmart air fryer developed his fryer without oil Purifry thinking about its hygiene. To achieve this, they adapted the design of the internal drawer so that it could be extracted easily and thus be washed with running water and also made it suitable for the dishwasher. Thanks to this, you should not worry too much about the hygiene of your fryer since you can keep it clean and like new without many complications.
Blusmart air fryer is available for order here: http://www.eblusmart.com/detail/336