Having the right tools for the job makes all the difference in the world. Not only does it save time with efficiency but it can save your back by enhancing and easing the work. For instance, a good watering wand or sprayer nozzle can speed the job, save water and provide a variety of spray options. Garden tools should be sturdy and well built since they are subjected to temperature variations and hard use. But sometimes choosing the best water nozzle and sprayer for garden plants can be difficult. This is where a company like Crenova steps in. Their garden hose sprayers and nozzles have a 12-month warranty and are made of the finest materials. Best of all, the sprayers are all made of metal to save you from those plastic ones that crack, leak and break shortly after purchase.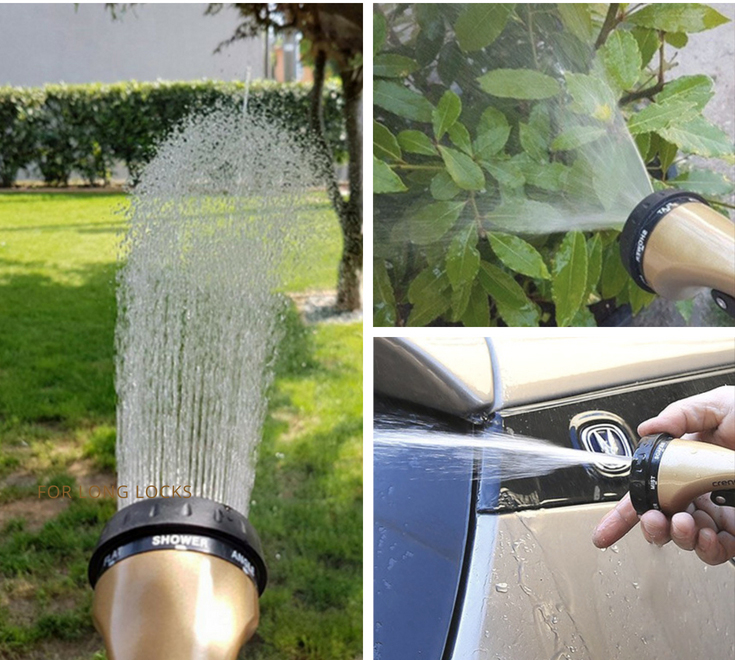 Whether you need to wash your car or gently water new baby seedlings, the Crenova 7-Pattern Spray Nozzle has you covered. The nozzle can go from a soft mist to pounding jet settings just with a turn of the dial. Made of high quality metal, the ergonomic hand grip is covered in non-slip material and features a trigger lock so your hand gets a break during big watering jobs. The nozzle also has a flow control knob, which allows you to dictate the rate of water pulsing through the hand tool. Crenova guarantees leak-free function due to the one-piece design and superiority of materials.
A great lightweight watering nozzle is versatile and invaluable for the home exterior. Crenova has a lighter weight hose nozzle which turns at the head to determine the amount of spray delivered. It can go from a delicate mist all the way to a focused hard stream. The nozzle is made to connect to a standard garden hose and has a washer to help ensure a tight seal to the hose. The handle is designed to fit comfortably in your hand and has a comfortable rubberized grip. This also comes with an integrated trigger lock on the handle, allowing for ease and comfort of handling during big jobs.
If you want the toughest sprayer for the job, the Crenova Brass Nozzle Garden Hose Sprayer (HN-03) is the right fit. There are six spray settings. It goes from super intense pressure on the highest setting to delivering a butterfly kiss of mist for sensitive plants. The product specifications state the nozzle will double the pressure that is input. The hose connection is durable brass and the handle is stainless iron. The handle also features a buckle that can hold the trigger in and produce constant flow. The entire spray nozzle is heavy-duty metal, but the handle still features a rubberized coating for a comfortable grip. It is so well made that it can withstand punishing heat or freezing cold for years.
All Crenova's products are available on Amazon with free shipping on orders over $25. Their 12-month worry-free guarantee and 60-day return policy are a promise of defect free, powerful garden tools that will keep you from having to replace spray nozzles annually. Use the codes below to get the following Crenova products at discounted prices:
Crenova Brass Nozzle Garden Hose Sprayer (HN-03): Code: MEDAZCKY $7.98
Crenova 100ft Garden Hose: Code: C8KMJOIJ $32.64
- Reviews by Bonnie Grant